May 3, 2019
Zoë joined our team in February 2016. She mostly oversees the Albany Park area for us but also travels into Uptown to work with a few of our client's pets from that part of town. Zoë has an infectious smile and brings a beautiful sense of awareness to her work in the field. I believe wholeheartedly that she's with us to build lasting relationships and is always seeking ways to continue to make part-time dog walking work in her life, so she can pursue the many passions she has in life.
Knowing that our customers are always looking for a better sense of the person who's working in their home, here's a deeper look into our wonderful Zoë.
And Zoë, thank you. I'm grateful for what you add to the team. We admire you so much for your hustle, your grace, we love your biggest laughs, and we're thankful for sharing your busy and full life with us. Rover-Time is so lucky to work with you.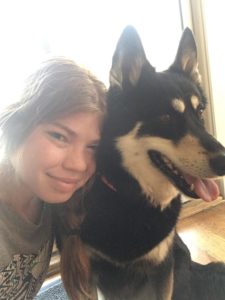 Julia: Tell us about a challenging day working with Rover-Time, how you managed that or who helped you figure things out, and why it was worth it to you.
Zoë: My first two weeks were the most challenging. It was the middle of February, so it was freezing cold. I was having trouble organizing the best way to schedule my clients, I locked myself out of my car TWICE in a two week period, and the side mirror broke on the car that I was borrowing! Basically, anything that could go wrong did.
Luckily I had two support groups to lean on. The first was my family who unlocked the car and had coffee waiting for me when I got home. They reminded me that every new job has challenges. I also was really supported by Rover-Time's Leadership Team, who were very patient and super helpful when I needed help in the field or with figuring out the best way to do my schedule.
Everything got much easier over time, and building these three-year long relationships with the team, the clients and my dogs has made it totally worth it.
Julia: Tell us about where you grew up, what your home life was like, and how your family has impacted who you are today.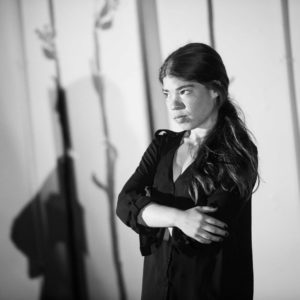 Zoë: I grew up in Rogers Park, right off Devon Ave. I had a really wonderful, magical childhood. I got to run wild with a group of kids my age who all lived on the same block as I did. I'm also very close to my parents and my brother, who instilled a love of animals and theater in me. My parents ran a theater together while I was growing up, and watching them work together and perform the shows was a huge inspiration for me going into the arts.
Julia: What performance are you most proud of so far?
Zoë: The show that I am the most proud of is my production of Shakespeare's 'King Lear'. Not only did I play Regan (the middle sister), but I helped produce the show. We set it as a site-specific show at a farm in Humboldt Park, where the audience walked around the farm to see the different scenes. It was ambitious, challenging, and thrilling – and a lot of work – but I am so proud of how it turned out.
Julia: Tell us about the first dog you really, really loved. How did that dog come into your life, impact it, and make it better?
Zoë: The first dog I really loved was my first dog, Steve. Steve's origin story is that my family knew that we wanted to adopt our dog, and I knew that I wanted to name my dog Steve, so we had to go look for a dog that seemed like a Steve. We went to lots of different shelters but no dog was totally right. Suddenly a big mess of fur and slobber comes running up to my family. It was a goofy looking dog that jumped on all of us, licked our faces… and peed on my Dad! We knew right away that we had found Steve.
Julia: What are some small things that make your day easier?
Zoë: The biggest thing that makes my day better is when the sun is out! I've found that the dogs almost always know when I'm having a hard day. I get some extra kisses and snuggles and my day will immediately improve.
Julia: Tell us about something a customer has done for you that made your entire day brighter and better.
Zoë: I have the BEST clients and they have left me such kind and caring gifts. One that stands out is that I had a customer this year give me a gift for each of the eight days of Hanukkah. It was so thoughtful and sweet and made it such a delight to go into the house and see what the gift would be!
Julia: What are you most looking forward to this year?
Zoë: I'm working on some big theater projects for the summer that I'm really excited about. Plus the fact that it's getting warm out just makes me so happy. I really am happiest in the sun!
Julia Rohan founded Rover-Time in January of 2012 and received her formal training at FetchFind Academy, a program for aspiring dog trainers, based in Chicago. Julia lives in Irving Park with her husband Mark. Together they co-parent Archer, their 4-year old son, Lou, their 6-month old, and Chauncey Billups Vanderhoff, an over-confident, territorial, and anxious 8lb. Chihuahua-Terrier mix. All the boys do a decent job of melting her heart hourly.