March 18, 2014
Can you imagine not knowing where your dog is for one minute? An hour? A whole day? For most of us, our pets are our family, our kids. Losing them would be devastating. I had the unfortunate experience of losing a dog last week. 5 days, 98 hours, 5,880 minutes. Gone. As heartbreaking and stressful this experience has been, I came out of it wiser and stronger, with knowledge to share with anyone who has a furry member of their family.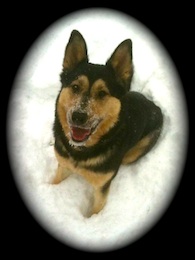 March 9, 2014 – my 28th birthday – the day Ryan slipped away from my partner, squeezed out of the yard, and put our lives on hold for five days. Mary, my partner, ran down the street after her, and by the time I threw on shoes and sprinted outside, a passerby told me I'd better get in the car because Ryan was moving FAST. We frantically searched, broke down in tears, searched some more, and finally went home to start spreading the word like crazy to every possible contact within our network. Searching for Ryan ended up being a 16-hour per day endeavor. We slept when we could and stayed on call for any tips. You see, Ryan is very shy, very crafty, and will absolutely not approach a stranger without her moms. She also has the tendency to become aggressive when under extreme stress and fear. Animals that bite animal control rescuers can be euthanized immediately. The stakes were high.
My first lesson in all of this: THESE THINGS HAPPEN. I told myself, "You're a pet professional. You're a dog trainer. You keep pets safe for a living. How could you let this happen!?!? She didn't even have her collar on!!" I had to give myself a break. The truth is that we all make mistakes, and even the most careful of us get comfortable and lazy with our dogs. There are things we let slip with our own animals that we would NEVER do with our clients' pets. It's true. A close colleague of mine who was deeply involved in the search admitted to me that the day after Ryan went missing, she let her dog out in the yard without a collar, just as we had, knowing that she shouldn't. Here's the thing: if Ryan hadn't squeezed through a gap in the fence, maybe she would have simply jumped it. Most often, you don't know what your dog is capable of until something happens. Some dogs can even climb over 6-foot fences. And regarding the collar – the only difference a collar would have made is an alert that Ryan is a pet and not a stray. She would never let anyone close enough to read the information or grab her anyway. Feeling guilty helps no one, nor does judging anyone who loses a pet. This can happen to anyone.
Which brings me to the second lesson: WORRY AND PANIC DO NOT HELP GET A DOG BACK. If you've never driven around the city at night searching for an animal, weaving through alleys, finding nothing, I hope you never do. I've never felt more helpless, more urgent, more broken down as I did doing that. Breaking down in tears of frustration and sadness may have been all I could do at some points, but for Ryan's sake, I had to recover. I'm not religious in any way, but I do believe that everything is energy, and that it was important to put positive energy into the universe. I had to believe that Ryan would keep herself safe, and that maybe she would pick up on all our love and desire to have her back. Letting ourselves be overcome by worry and despair wouldn't help us, and it certainly wouldn't help Ryan. My grandpa always used to say, "Be concerned, but don't be worried." There is a big difference between the two: one is constructive and the other is destructive.
The third lesson: THERE ARE MANY WAYS TO ACCEPT HELP. We had an absurd amount of people offering to help in any way they could, for which I'm beyond grateful. We had tons of people searching, but we clearly needed help in other ways too. My mom, the most amazing person in the whole world in my opinion, came over every day to make sure we were able to get some sleep, drink enough water, and still be able to care for ourselves. She cooked for us, cleaned up the house, and made herself available to just be there. I can't stress enough the difference that made. The sub-lesson here is that you absolutely must keep yourself healthy and strong in order to help your lost pet. You have to take care of yourself, even in a crisis.
And number four: OH MY GOSH DO I HAVE AN AWESOME NETWORK OF AMAZING PEOPLE. As soon as we put the word out, Ryan's info spread like wildfire. Her information was seen by over 200,000 people, and her Facebook post was shared by almost 7,000. That is insane! I admit that I tend to become jaded and lose faith in humanity. Yet the most tears I shed these past 5 days were out of sheer gratitude for the incredible kindness and tireless work of both friends and strangers alike. I'm lucky enough to have the kindest, most caring boss – Julia – who allowed me to keep my work at a minimum to dedicate more time to the search. Julia & Katy of Rover-Time fame even drove around late on a Sunday night to look for Ryan. My oldest friend, Laura, took on the heart-wrenching task of checking Chicago Animal Care & Control for us every day. Isabel, a friend from the sanctuary Ryan came from, posted and e-mailed her info to about 100 Chicagoland businesses, rescues, and vets, all from her home in Pennsylvania. Ryan's aunt, Nancy, kept the rescue mission organized and provided emotional support from Michigan. We had people all over the country posting in the hopes that anyone they knew in Chicago could help. Our friends Phoebe and Katie rushed out at all hours to flyer like mad in the areas where sightings were reported. AnimalSense owner, Lindsay, was there in the final 3 hours searching and I heard the tearful reunion between Ryan and Mary over Lindsay's phone. Sarah G and Nancy also covered my training classes so that I could spend more time with Ryan on her first night home. You sweet, caring Rover-Time clients spread the word, put up flyers, and simply left a kind note for me when I came to walk your dogs. I'm overwhelmed by all the support we received and how quickly people jump to help. Even people on the street, when asked if they'd seen our dog, were genuinely sad and eager to help even when they had no information for us. I don't think I can ever doubt the underlying goodness of people again. Remember: there are terrible people out there, but for every one of them, there are far more good people who are willing to help a stranger in crisis. I have no way to fully repay each and every individual who paused their own lives to help save Ryan's, but I can pay it forward by helping the next lost pet and their people that I come across. Many people just want to know that someone would do the same for their animal. Of course I will.
The final lesson: KEEP FAITH AND A GOOD SENSE OF HUMOR. I think Mary and I did an equal amount of crying and laughing these past five days, and I know it saved our sanity. I hope this never happens to you, but if it does, you must let yourself feel a full range of emotions and not get stuck in the despair. The day Ryan went missing, in the midst of tears and panic, Mary said to me, "What if animal control finds her? What happens if they bite her?!" I paused, realized what she meant to say, told her I was absolutely sure that would NOT happen to Ryan, and we both laughed until we couldn't breathe. How could we joke around while Ryan was out lost, scared, and alone? Well, because we had to. Laughter is a great way to relieve tension. It's the same as lesson #2 – we had to stay positive and trust that she would return safely. One of the great gifts Ryan gives us every day is laughter. She's goofy and funny, and that helped us stay positive for her. We imagined all the ridiculous things she was doing in the ridiculous voice we've given her. Humor kept us from being sinking into paralyzing hopelessness. Take comfort in your other pets too. Surf, our own personal therapy dog, kept our spirits up while drenching us in kisses and hugs. Our sweet little kitty kept us warm and comforted with her purrs and snuggles.
So how did Ryan make it home safe? Where has she been? That's a story for another day: look for Ryan Recon Part 2 coming soon. I'll tell you all about her adventures, how we tracked her down, and what you can do to keep your pet safe. For now, I'm going to go squeeze her fuzzy cheeks and stuff treats in her silly face, and tell her how much I love her and that we will never ever ever let her go missing again.
Lynda manages our dog walking team at Rover-Time. Her career focus is on dog training and behavior and her approach is based on science, positive reinforcement, and humane methods to improve relationships between humans and their pets. She's also an assistant trainer at Animal Sense in the evenings and co-parents her own dogs, Surf and Ryan, with her other half Mary.