June 26, 2014
A seat belt can be the difference between life and death in the event of a crash, and yet, a majority of dog owners do not extend these important safety devices to their furry friends. For many, it's simply a matter of not knowing that canine safety belts exist, but more products are hitting the market and gaining popularity.
Let's explore the top ten reasons to consistently secure your dog with a seat belt: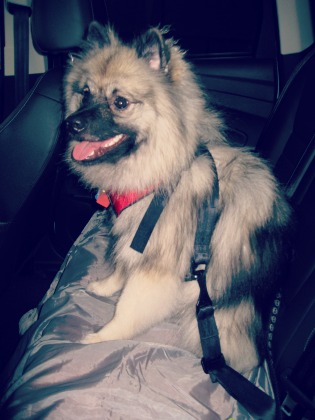 Prevent injury and death to your dog. In addition to crash-related injuries, simply hitting the brakes too hard can send your dog flying, causing broken bones or other injuries when they come into contact with a windshield or instrument panel.
Avoid costly vet bills. As we all know, vet bills can be extremely expensive. A preventative seat belt is a much more cost-effective solution than paying for costly surgeries after a crash.
Prevent injury to others in the car. In the event of a crash, an unrestrained dog can become a very dangerous, heavy flying projectile which can cause injury to yourself and others in the car.
Protect first responders. Having just been in a very traumatic crash, even the most good-natured dog may become aggressive in an attempt to protect their injured owner, not realizing that they are preventing the help the owner may desperately need from reaching them.
Prevent runaway dogs. Due to the trauma, a scared dog might leave the crash site entirely and go missing, potentially with a serious injury, preventing them from getting the veterinary care they need and reducing their chances of survival.
Avoid distraction-related accidents. A loose dog can actually cause an accident due to driver distraction. According to the official U.S. Government Website for Distracted Driving, the number of people killed in distraction-affected crashes in 2012 was 3,328 and engaging in visual-manual subtasks increased the risk of getting into a crash by a factor of three.
Allow the driver to focus on the road. Any diversions that last more than 2 seconds increase your risk of crashing, according to the National Highway Transportation Safety Administration (NHTSA).
Prevent your dog from jumping out of the window. A safety belt can prevent your dog from jumping out of the car window when they're enjoying the summer breeze, an especially important factor during summer or on car trips to rural areas where there may be tempting wildlife to chase.
Prevent "bolting" the moment you open the car door. Many dogs run out of the car the moment the door opens, and these types of events can have very tragic endings if they take place near a busy road or in an unfamiliar area where the dog might be distracted by new surroundings and not know how to navigate their way back to their owners.
Give your dog a sense of security. The safety belt can have a similar effect as a thunder shirt for dogs who are nervous car riders and can help the stability of older dogs who might not be able to keep their balance during unexpected stops or sharp turns.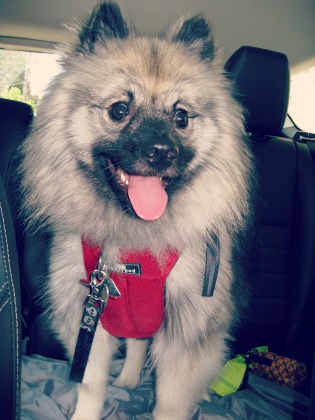 As you can see, dog safety belts are essential to protecting our pets, ourselves, our families, other drivers on the road, and even emergency responders. As dog lovers, I encourage each of us to be the front line for a movement towards canine safety belt use. Let's prevent accidents and give these wonderful creatures the same protection we give ourselves!
If you need help selecting the dog safety belt, email me at anndavidson@caninelink.com. I would be honored to help you.
Ann Davidson received a BBA from Loyola University Chicago and is a current student at CanineLink academy, a school for aspiring dog trainers.  She currently works at IRI, a marketing research company, and volunteers at Alive Rescue.  She lives in the Graceland West neighborhood of Chicago with her husband Eric and Keeshond Ash.