June 24, 2014
For many pet owners, our li'l ones sit at home all day with not much to do but watch squirrels out the window… if they are lucky enough to roam the home unsupervised.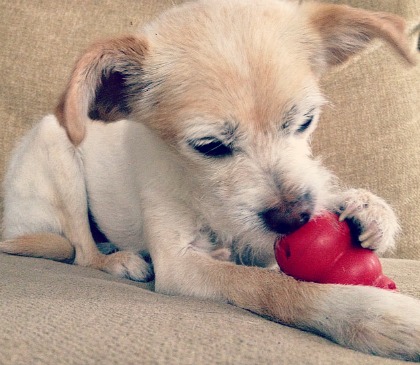 Even working from home myself, poor Squash doesn't get nearly enough attention from me throughout the day, despite her best efforts. She does a decent job of entertaining herself. With a squeaky toy, she has enjoyment for at least 15 minutes. Her other favorite toy is the Kong, which is a lot less grating on human ears.
Kongs are amazingly versatile and effective for being a lump of rubber. I love to come up with new combinations for Squash's delight. I'm a big fan of using seasonal ingredients in my own cooking, so I've come up with "Kong Parfait" recipes for each season using produce at its peak for that time of year.
Please Note: You want to check with your vet before feeding him/her any human foods. Read this article from Fun Times Guide and this one from ASPCA for lists of food NOT to feed your dog and food that is dog-approved. Be sure to keep an eye on your pup when testing new foods in case s/he has a reaction to anything.
Before I jump into my favorite filler ideas, here are a few tricks for minimizing mess and optimizing deliciousness.
Tricks of the Kong Trade
I've made my share of frozen Kong parfaits but I've also seen several of those parfaits end up stuck to the bottom of my freezer from spillage. Here's a simple trick. Cut off about an inch of a toilet paper or paper towel roll. Plug up the small hole of the Kong with peanut butter or Cheez Wiz before filling with wet ingredients. Stick the small end of the Kong upright in the cylinder while it's setting in the freezer. (See picture.) For double security, place a small plate or tray underneath.
Squash loves ice cubes. They work great as a quick alternative when I don't have time to stick the whole Kong in the freezer. For an extra special surprise, fill an ice tray with chicken broth or applesauce and freeze it.
If you want to fill every nook and cranny with delicious goodness, then get out your blender. Dump in your dog's favorite ingredients. Use a mix of liquid and frozen broth or applesauce to help it blend but also stay firm. Hit "frappe". Next, plug up the small hole in the Kong with peanut butter or Cheez Wiz. Fill a ziploc bag with the doggie smoothie and snip off a corner. Squeeze in the smoothie mix. Freeze it for a super long-lasting treat.
I've had this bag of freeze dried chicken treats sitting in my cupboard for months. Like the bottom of a chip bag, the broken chicken pieces are two small to pick out. I was about to toss it, but turns out the chicken dust makes great Kong filler when mixed with sticky foods. Try it with other treat remnants too.
If you haven't purchased a Kong before, be sure to get one small enough that your dog's tongue can reach the very bottom. Cleaning out a lot of leftover gunk at the bottom of a large Kong can be a real pain.
Seasonal Kong Parfait Recipes
"Spring Is in the Air"
All-natural Peanut Butter or Cheez Wiz to plug small hole and line the walls
Salmon
Apricot slices (no pits)
Peach slices (no pits)
Cashews (unsalted)
A little grated Ginger (great health benefits in small doses)
Cottage Cheese (lowfat, plain)
Layer the rest of the ingredients. Put Cottage Cheese at the bottom if you plan to give it to your dog immediately. May get a little messy. Or put cottage cheese on top and freeze for extended fun.
"Summer Lust"
All-natural Peanut Butter to plug small hole and line the walls
Berries (fresh or frozen)
Mashed Banana
Yogurt (plain, lowfat, unflavored, unsweetened)
Honey
Sunflower Seeds (unsalted)
Mint (helps with bad breath)
Layer ingredients and let your dog have at it or blend into a smoothie and place upright in freezer.
"When the Leaves Turn"
All-natural Peanut Butter to plug small hole and line walls
Apple or Pear chunks
Honey
Oatmeal (cooked, plain, no sugar)
3 ways to try it:
Layer the ingredients like a parfait and freeze
Blend into a smoothie and freeze
No time to freeze? Fill the small hole with PB and spread thin layer of oatmeal + honey inside then fill with mostly apple/pear. Top off with an ice cube to hold it all in. May get messy.
"Thanksgiving Dinner"
Bread (no raisins or nuts)
Squash or Pumpkin or Sweet Potato (I'm partial to Squash, obvi!)
Turkey (cooked, no bones or skin)
Green beans (canned, no salt)
Celery
Cram it all in and give it straight to your drooling pup.
For a longer-lasting treat, fill the crevasses with chicken broth. Use Cheez Wiz or Kong Stuff'n Product to fill the small hole. Test it first with a little broth to make sure it doesn't leak. If it leaks, fill small hole with more cheez wiz and/or peanut butter. Place upright in freezer.
For more great Kong combos, check out this link to Fun Times Guide.


Do you have your own favorite recipes or tricks for making superior Kong parfaits? Do share!
Katy comes with an advertising background and a Master's in Social Psychology, so she can basically read your mind. She's also the proud parent of a sweet, smart, energetic "borador" named Squash (aka Squasharina, aka Squashinator, aka Squishy). Katy helps manage Marketing and Operations at Rover-Time with Julia.