February 3, 2014
Chicago Animal Care and Control (CACC) is essentially the City of Chicago's pound. They are an "open access" facility, meaning they take in all animals that come through their doors, regardless of reason.  This means they always face overpopulation.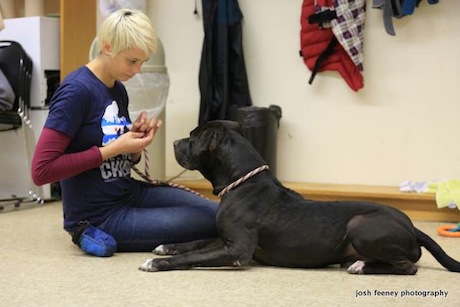 In the not-too-distant past, most of the animals had little-to-no chance of making it out of the shelter alive, primarily due to a lack of resources and places to go. Thankfully, there has been a large and hugely impactful citywide effort by small rescue groups and CACC administration & volunteers to help find a place for all of these animals to go. With other efforts such as free and low-cost spay/neuter initiatives, euthanasia has greatly decreased. Still, nearly 10,000 animals are euthanized each year at CACC, simply because there is no place for them to go.
Our teammate Andrea Juracek regularly volunteers at CACC. Recently, she's collaborated with CACC administration to create an Enrichment Team for the dogs living there. We interviewed her to learn more on the program, the people, and how to help.
Katy: Talk a little bit about why you wanted to start the enrichment program and how it all started?
Andrea: Chicago Animal Care and Control (CACC) runs with few resources but has to care for thousands of animals each year. It can be a very stressful environment for a number of reasons. Getting every single animal out of their cage for a substantial amount of time every day is near impossible. The animals spend upwards of 23.5 hours per day in their cages with hardly anything to do.
A group of volunteers at the shelter had been talking about doing more with the animals in their cages to help lower stress. After talking with the shelter administration, it was apparent that there was an interest in getting a formal enrichment program into place. I wrote out a template for what that program could look like, based off existing programs such as Safe Humane Chicago's work with court case dogs, and the administration is now working on formalizing it.
K: What kind of activities would the dogs be doing?
A: So enrichment, generally, just means any activity outside of their normal everyday existence. Everything from giving them a frozen peanut butter Kong to letting them eat their dinner out of Buster Cubes – like a feeder toy where they have to figure out how to get the food out. Anything that really helps stimulate them mentally and physically.
[We want to have] fun with it too, you know? I suggested the volunteers start blowing bubbles into the cages. It's something fun for the dogs where they are interacting with the volunteers. Again, less of a one-on-one interaction, but still [reducing] stress in their cages.
We would also work with them on "click for quiet", which is a training game where a group of volunteers walk up to a cage with a clicker. If the dog offers a sit or even if they just stop barking and have four paws on the floor, you would click and treat the dog. It helps to reinforce better kennel behavior so that when an adopter or rescue goes through, [the dogs] seem happier and more approachable. It just helps them show better in their kennels, which in turn gets them adopted quicker.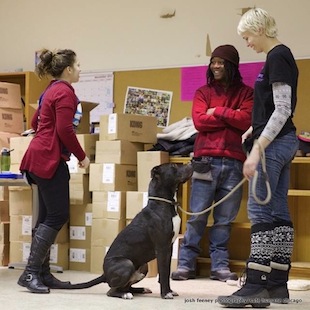 K: How many regular volunteers will you have on the Team?
A: There are going to about 20 people we'll ask to be on the first Enrichment Team. We are keeping it specialized at first to work out the kinks. We are going to ask people who have been volunteering at the shelter for a while and are familiar with the way the shelter operates. From there what we will do is disseminate to the general volunteers the things that they can do every day. Like after you clean a cage, throw in a frozen Kong and give the dog something to chew on or do.
K: Have you seen this type of program at other places that do similar things?
A: The Anti-Cruelty Society has their trainers doing a lot of similar activities that we hope to do. And thankfully there are many other models throughout the country. Many groups have resources up on their websites, such as Animal Farm Foundation out of New York. They have a whole kennel enrichment "how-to" on their site and actually give grants to programs for new supplies.
K: For the readers who haven't heard yet, we are organizing a donation drive with all our Rover-Time fans through February to help support your initiative. What kinds of things can people give for the donation drive?
A: Durable toys are always in great demand. Because CACC is such a large, high-volume shelter, we need lots of durable toys like kongs and nylabones that can be used over and over again. Peanut butter and small training treats are also always needed. Other items we could use are old pillowcases that can be stuffed with treats and tied into a knot. The dogs rip them to shreds, but it's a ton of fun and wears them out a bit! Durable cat toys are also very much needed! Kong also makes some great ones for the kitties.
We also look for old blankets. Thick, warm comforters especially make a difference because right now the dogs sleep on concrete.
K: At least for me, never volunteering there before, it feels intimidating. But something as easy as clicker training feels like something I could manage and not feel intimidated about.
A: Definitely. CACC can be very overwhelming because of how much there is to do for the animals. Even the regular volunteers are always looking for something more to do. You can get a dog out of their kennel for 20 minutes and make sure they have a clean cage to go back into, but an hour later they still have tons of energy. So you kind of feel like you're running on a treadmill. By giving the dogs something that will keep them busy and active during the day, we hope to see that positive change in their personality and their anxiety levels.
K: What are the main goals for the program?
A: The main goals overall are to lower stress and, ultimately, help get animals out of the shelter faster. A lot of negative overstimulation comes from the sounds of the shelter and how noisy it can be. The administration is working on making structural changes to address that, but we can also work with the dogs on controlling their barking when people come into a pavilion. We just want to overall try to create a calmer environment. Lower stress makes for happier animals and happier animals are more likely to show better and get out of the shelter faster!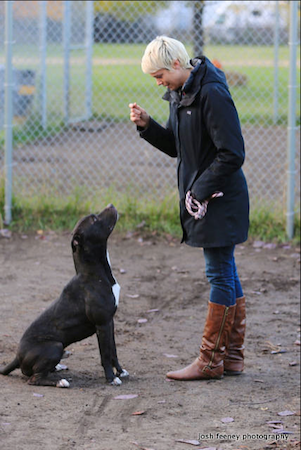 CACC is also always in need of more volunteers!! There is a general training that volunteers must attend to get started. It's a worthwhile process! For more information, click here.
Or if you'd like to learn more about the donation drive, email Julia at julia@rover-time.com or check out their Amazon wishlist to donate directly.
Katy comes with an advertising background and a Master's in Social Psychology, so she can basically read your mind. She's also the proud parent of a sweet, smart, energetic "borador" named Squash (aka Squasharina, aka Squashinator, aka Squishy). Katy helps manage Marketing and Operations at Rover-Time with Julia.