July 14, 2015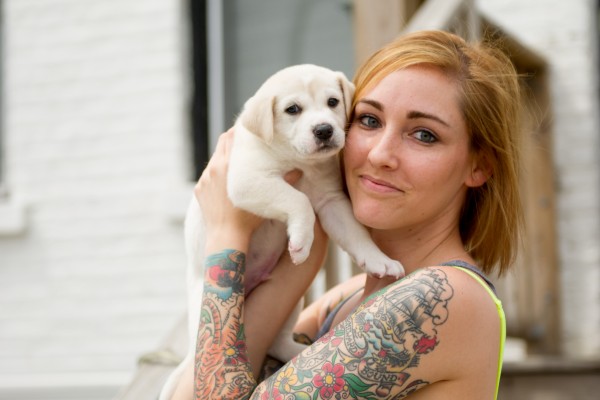 With 8 days left to go until our fundraising deadline, we have met our second goal of $80,000. When we started this project we set a minimum goal of $70,000 which would cover the bare minimum: the yard renovation, our custom kennels, and a year's worth of property expenses. We didn't factor in extra veterinary care for the dogs, supplies, staff costs or emergency expenses. But we knew our community would come together and support us, and they have.
We are just over $80,000 and as we raise our goal for the second time, we know that the community will once again be behind us. It was so important for us to crowd source this project instead of looking for a few wealthy individuals or corporations. In Chicago we have a massive problem with the way we treat our companion animals and we know that it's going to take a whole team to address it.
One Tail at a Time has always believed in community. So when we see over 500 donors coming together to support us, it makes us believe that the community is here. As we crowd source for our Adoption Center, we know it's not only something that the community wants, but that the community is willing to support with their hard-earned money. That means so much to us, and even more to the dogs.
The last phase of fundraising is always the hardest. The momentum slows, the big projects have been paid for, and we are so busy working that updates and photos get slower. However, we feel inspired and we feel excited to finish strong.
Right now we are fundraising for heavy duty kennels that we will keep at our Adoption Center but also at our veterinary partner, Higgins Animal Clinic. Recently, we worked with Higgins on a new intake protocol that will allow us to take in more dogs while keeping both our dogs and their client dogs safe and healthy. This partnership is so crucial to our success and we're excited to raise money for the necessary pieces to keep it going.
We're also raising money for the dogs. It may seem simple, but the dogs need veterinary care which is expensive. We spend approximately twice as much on each dog than we recoup for their adoption fee, so fundraising year round is so essential to our success.
I've heard fundraising be called a "necessary evil" so many times, and while there was a time when I hated doing it and felt like it was so far removed from what we are doing here, I've recently had a change of heart. Being part of our community's financial generosity has been incredibly rewarding. Fundraising is just another part of investing in our community.
As we wind down our official fundraiser, we know that we will have to push harder than ever. But we also know that we'll see support that inspires us to keep moving.
Visit One Tail at a Time's website to make a donation to the Adoption Center.
Heather Owen is an Illinois attorney who recently left her law firm to help One Tail at a Time launch their new Adoption Center. Heather enjoys keeping up to date on progressive animal welfare policies and new studies in best practices and applying them to OTAT. Heather also co-founded Six Legs Foundation, a group that provides veterinary grants to families in need. Though she prefers to spend her free time rescuing dogs, she tries to make time to enjoy the finer things in life like enjoying a beer on the porch with her dogs.