April 9, 2015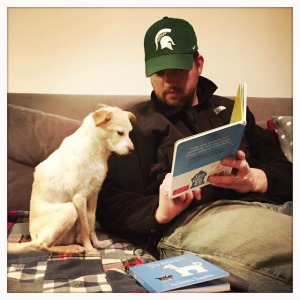 Sally at the Farm by Stephen Huneck
This book has everything: a goose named Gertie, a black dog, a brown dog, a cow whose face gets licked by the black dog and brown dog – AT THE SAME TIME, a hammock… the list goes on. This will be a good book to introduce our little city baby to farm life. Also, the illustrations look a tiny bit like the ones I've been doing to raise money for rescue dogs. Maybe you've heard of them?
Harry the Dirty Dog by Gene Zion, Pictures by Margaret Bloy Graham
I added this one to our registry because we had it in my house when I was growing up and I have fond memories of it. I actually sort of forgot about this book until I saw someone at a dog-themed event with a tattoo of the cover. So clearly it's made an impression on some other people as well. Anyway, this book is great. The illustrations totally make it for me – they're really detailed and have some great, busy scenes with lots to look at. It was written in 1956 and has some Leave It To Beaver-style charm about it (including coal chutes and very-overdressed-by-today's-standards parents). It has a good message, too: don't underestimate the importance of personal hygiene.
Doggies, a Counting and Barking Book by Sandra Boynton
You might remember Sandra Boyton from… the 1990s in general, I guess. She had these little cartoon cats and cows and other critters that were on lots of greeting cards and, what… stationary and stuff? That seems like a a weird way to become a famous illustrator, but I guess she did it. Anyway, turns out she also has kids' books! This one starts with one barking dog, then keeps adding a different dog with a different bark as it counts up to nine. Then on number ten, there's a huge twist: the new dog is actually a cat! It's basically the Gone Girl of children's books.
Larry Loves Chicago by John Skewes
Larry is a dog who belongs to a boy named Pete. The two of them go all over Chicago and we learn about all the things in the city that Larry loves. They include some great, pretty specific picks: Chicago-style hot dogs, the Museum of Science and Industry, the Ferris Wheel at Navy Pier, etc. It also taught me the name of the sculptor who did that piece at the Thompson Center (Dubuffet). Not bad for a book written for the "infant to 3" demographic. My favorite part is a lovely, two-page illustration of all the bridges across the Chicago River – with each one labeled.
Julia and I are pretty excited to make up some engaging dog voices while reading aloud to our son. But we're also open to learning about books you loved as a kid or are enjoying with your little one, present day.
In the comments below, share those titles with us!
Mark Vanderhoff is Julia's husband and Chauncey's dad. He's is an amazing guy, and annually wins the "Most Supportive Spouse" award. Mark sells for NPR + PBS stations during the day. At night he works a second job as VP of Cuddles for Rover-Time Dog Walking & Pet Sitting.