February 12, 2013
Chauncey moved into Julia and Mark's home on 2/24/12. Here, he shares his very busy plans for the 1-year anniversary of that date; his "birthday".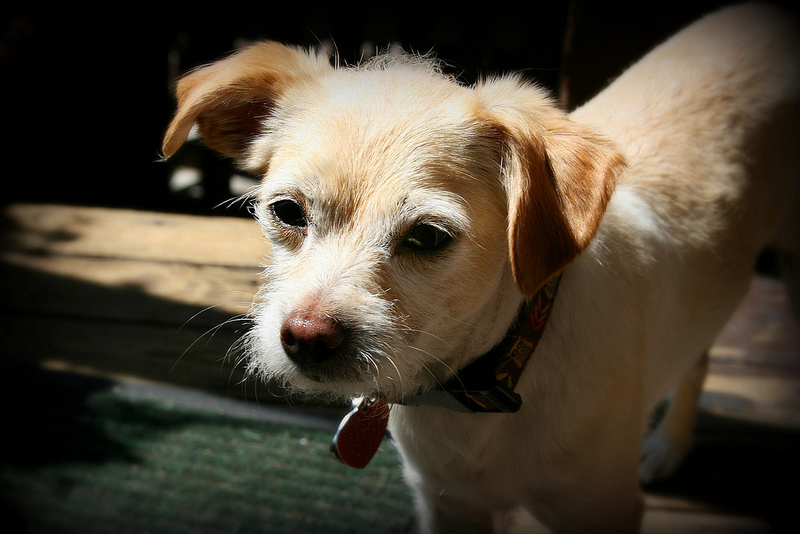 Chauncey's Birthday Itinerary – February 24th, 2013
3:00am: Crawl out from under comforter, between parents. Jump off bed. Go get a drink of water while parents lie awake, listening closely to determine if they need to get out of bed to let me go outside to conduct business. Let them sweat it out for an extra 10 seconds or so. Just as they're about to get up, return to bed. I was just hot. How come they worry so much?
6:35am: Wake up when Dad's first alarm goes off.
6:37am: Wake up 3 minutes before dad's second alarm goes off, bark at closed bedroom door. Ignore Dad's requests to quietly return to bed until he gets up and lets me out to go find Mom.
6:38am: Prance adorably down the hallway, join mom in the office. Get scooped up onto her lap and bask in steady stream of her verbal praise and affection.
6:43am: Watch as a bleary-eyed Dad enters office to say good morning to Mom and give me head pats. Enjoy family rendition of "Happy Birthday", more praise. Have appearance compared to various creations of Jim Henson's Creature Shop, woodland creatures, snack foods.
6:44am: Go outside. Conduct business. Bark at anyone with the audacity to walk down my alley until parents yell at me to come back inside.
6:51am: Breakfast is served (on the bed so dog guests can't get to it). Fromm Pork and Apple Sauce dry food mixed with Stella & Chewy's Duck Duck Goose Dinner patty, garnished with ¼ tablet of Prozac and plaque-fighting seaweed.
6:51-6:52am: Stare uncomprehendingly at food bowl as if I've never seen it before, even though my weight has almost doubled in the last year. Sniff food. Lay down next to bowl.
6:53am: Remember that I like my food. Scarf down entire meal while no one is looking.
6:53am: Find parents, treat them to a belch that is equal parts disgusting and hilarious.
6:54am: Wait for parents to stop laughing. Congratulate self on once again filling their lives with joy.
6:54-10am: Reward self for super-productive morning with some R&R time on Mom's lap while she works in the office. Submit to being changed into special birthday outfit, likely my green turtleneck sweater.
10am-3pm: Mom leaves house. Wind down from R&R time with napping, lounging on back of the couch, intermittent sprints to the front windowsill to bark head off at pedestrians, trees, moving cars, parked cars, litter, et al. Wonder what cats downstairs are doing.
3pm: Congratulate self on not having any business transactions while indoors, protecting house. Lose mind for 30 seconds when mom comes back home, then immediately return to lovable self. Enjoy improvised song from Mom about me, how cute I am, what I smell like.
3:01pm: Go outside. Conduct more business.
3:02-6:15pm: Follow Mom around. Occasionally stare up at her with my soulful eyes as if to ask why she ever leaves the house and deprives me of precious lap time.
6:16pm: Dad comes home. Muster up the energy to lose mind again so as to not give him inferiority complex.
6:16-6:20pm: Get carried around house by Dad. Enjoy improvised song about how I am good, also small.
6:30pm: Dinner – same as breakfast, minus drugs. Repeat procedure of pretending not to recognize food. Make Mom feed me some by hand as if to remind me what it is. Eat food as quickly as possible. Belch.
6:50pm: Observe Vanderhoff family dog tradition by receiving ice cream on birthday. Decide, like 97% of all other food I've tried, I don't like it. Get some more lap time instead.
7pm: Open gifts. Hopefully get a bed so I can stop trying to commandeer guests' beds. Ignore any squeak or chew toys I receive until another dog shows interest in them, then pretend it is the most important thing in the world.
7:10-8:30pm: Nap in new bed.
8:30pm-10pm: Mix things up by napping on Mom's lap on couch. Hope there's a new episode of Pit Bulls and Parolees on DVR.
10pm: Get woken up by Dad, carried to back door. Once outside the door, turn around, give Dad look that fully expresses failure to comprehend how he could interrupt my sleep to put me out in the elements like some sort of animal. Descend back stairs after repeated requests. Conduct final business of the day.
10:30pm: Jump on bed. Stand on Dad's chest and paw at his face. Force cuddles by trying to burrow face into his neck. Dig under comforter, between parents. Snuggle into nearest knee pit. Reflect on the past year while chewing nails. Feel tiny, fur-covered body fill with gratitude for rescue organization and foster parents who took care of me and helped me find my new home and family. Sleep. Dream of laps and dehydrated lamb lung.