October 5, 2013
A guest post from Kiki Yablon
As a "dog trainer," most of what I actually do is teach people how to teach their own dogs. There's a good reason for that: dogs aren't cars, to be fixed by a doggie mechanic. Behavior is an ever-changing response to feedback from the environment – and you're a huge part of your dog's environment.
That said, at some time or other in our lives, most of us find that we don't have enough time to do everything we'd like to do – and that can include scheduling structured training time with our canine companions.
For our new collaborative Board & Learn offering at Rover-Time, Julia and I thought hard about how to balance the need for owner participation and education with the efficiency and convenience of having a professional trainer work directly with your dog.
Before we start, I'll gather information about your dog and your priorities, make recommendations, and work with you to set goals. Then while you're on vacation or on the job, I'll work with your dog for at least one hour per training day, using humane, effective, force-free methods that your dog will enjoy. Between sessions, Rover-Time will help reinforce what your dog is learning through consistent, positive interactions. When you get home, or when the program is complete, I'll meet with you in your home to teach you how to maintain and build on what your pup has learned, then follow up with written instructions and additional resources.
If you're boarding your dog for five days or more, or making regular use of Rover-Time's daycare, this new service is available to you. Whether you have a new puppy who needs to learn basic manners, an adolescent who seems to have forgotten everything he learned in puppy class, or an old dog who'd just enjoy some new tricks, we think Board & Learn can greatly enrich your dog's stay at Rover-Time.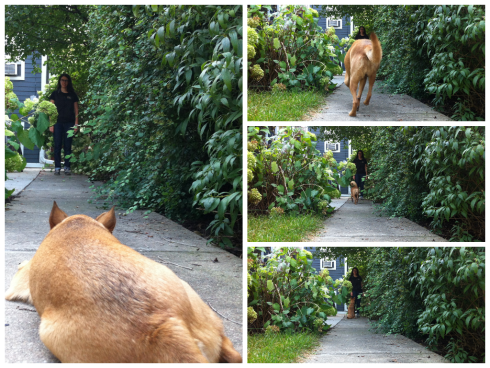 To learn more about me, visit my website or Facebook page. Rover-Time clients interested in this service can directly contact Julia.
Please note: Board & Learn is not "boot camp" for aggressive dogs, whose success depends on a longer-term program with more owner education and participation. And similar to booking any extended visit at Rover-Time, some planning and notice is needed to reserve the Board & Learn service.