October 12, 2015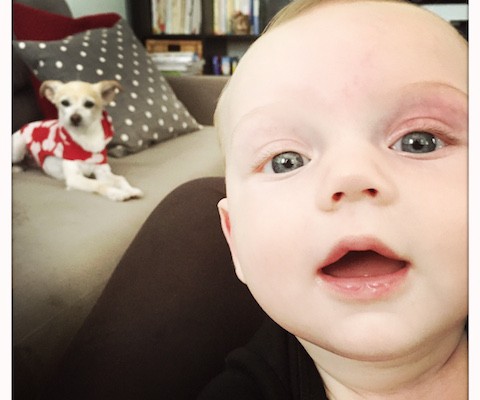 Going from a household of two humans to two humans and a small dog was a profound experience for my husband and me. Chauncey will always be our first-born, and I genuinely believe that learning to become good pet parents made our relationship stronger and yes, in some ways, helped prepare us to be human parents. However, the prep work for this monumental change pretty much included two steps 1) Finding Chauncey's online profile from his rescue organization, and 2) A 30-minute shopping spree at a pet store once we'd met him and knew we'd be adopting him.
That wasn't much help when it came to preparing to add a baby human to the household.
I can't tell you how many people asked me if I was going to bring a baby blanket home for Chauncey to smell before we brought the baby home. 

Or how many well-intentioned folks suggested I play baby sounds for months leading up to his arrival.
Even our vet was in on it. She wanted us to buy a doll and carry it around from my second trimester until I delivered. She suggested I snuggle it while our family sat around and watched TV together so Chauncey got out of the practice of sitting on my lap. She referred to it as "demoting" him prior to the baby's arrival so it wasn't a shock all at once. Language like this might be one of the reasons that this is our FORMER vet.
I also got the, "When you're not holding the baby, make sure you hold the dog" advice… which sounds great in theory, but to be honest, sometimes when you're not holding a baby, you need to pee.
There was just a lot of advice coming from every direction. Some of it I even understood and respected, but I also knew my dog's abilities and learning style. To be frank, my dog is a pretty simple dog. And by "simple", I don't mean smart.

So how did we prepare our dog for our baby?
One of the first things we did was get him used to all the baby gear. The fleets of strollers were set up and on display for him to sniff and stare at. Occasionally, I'd push one around the house.
The bouncers were assembled and set up in the place they'd eventually 'live.' The space aged mamaRoo (which is like a combination swing/ basinet/ rocketship/ mother kangaroo) was turned on every so often and we'd look at it together.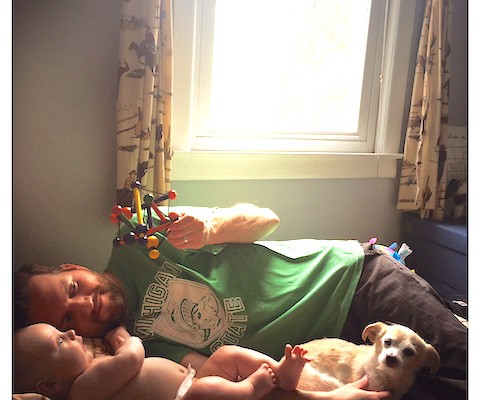 And we hung out in the baby's nursery. I let him explore the new furniture and rugs. We'd lay around in it and just be.
I did a lot of reading while pregnant. I noticed all the parent-to-be books suggesting that there should be three adults to one baby in those first few weeks postpartum, meaning visitors were inevitable which made my introverted side cringe.
In short, I decided helpful visitors were good. Unhelpful visitors were going to be bad. This became my rational for the list I unabashedly hung in my kitchen for weeks after Archie's arrival home. It was called Ways You Can Help Us and it included everything I didn't want to ask for, or say, or be forced to explain after giving birth. Like how to use the washing machine. It's quirky; I knew I needed laundry done, so for example on that list, I included instructions on how to use the machine.

My dog Chauncey was included on the list. I shared:
– Basics like how and when to feed him, where his food is kept in the house, and how to sneak his Prozac in to every meal.
– Instructions on how to give him a break from the house. I noted his preference for the old let out verses a long walk but what to keep an eye out for and how to keep him safe.
– How he likes his pets and kisses. And I wasn't joking. The list encouraged snuggling and spoiling my dog, if he'd have them. His most favored treats, the ones he'd do nearly anything for, were easy to find and within reach. When guests would arrive, it was a real treat parade for Chaunce. People were instructed to grab them and shower him with snacks.

There were also lots of nesting, pre-baby, Chauncey-related tasks I crossed off my Wunderlist:

1.) I got his ID tags redone.
2.) We brought him up to-do-date on all his vaccinations and made sure his city tags were good to go.
3.) He had his annual dental exam, cleaning, and extractions. (My dog has the worst mouth.)
4.) I found a vet closer to home and moved his records so we didn't have to travel as far for his doctor visits once the baby arrived.
5.) We ordered several months of his medication in advance and took care of his Heartgard and Frontline.
6.) We stocked up on his food. We bought tons of it. And a bunch of wet mix-ins that made his food that much more desirable to eat when, say, you're fighting a little doggie depression because your favorite human is too busy for you.
7.) And we took him for a last pre-baby furcut and manicure, not just so he looked his best for his little brother's arrival, but so we didn't feel like neglectful parents if he needed to have those things done and we just weren't able to get to them in those first hectic weeks.
If you have the time and energy to play recordings and do the doll routine, by all means, I'm sure they're helpful in many cases, and they certainly can't hurt. But if you need to prioritize a few things, we felt that getting a 48-hour jump on introductions by sending a baby blanket home from the hospital just wasn't as important as taking some simple steps to consider Chauncey's emotional and physical well-being over the long-haul.
This post was inspired by a gaggle of Rover-Timers that are becoming new parents this year. Many have written and asked for advice for how I prepared and how it's going since. I'll probably follow-up soon with an article on how our household does pet ownership and baby caring but for now, all you expert dog-loving, also parents to humans, drop your best advice in the comments below:
How did you prepare your dog for a baby?
How did you get yourself ready for the transition from pet parent to parent?
Julia Rohan founded Rover-Time in January of 2012 and received her formal training at CanineLink, a program for aspiring dog trainers, based in Chicago. Julia lives in Irving Park with her husband Mark. Together they co-parent Archer, their newborn son, and Chauncey Billups Vanderhoff, an over-confident, territorial, and anxious 8lb. Chihuahua-Terrier mix. Both boys melt her heart hourly.