July 3, 2014

Fun Fact – 87% of our client base adopted a dog. They pulled directly from a shelter or found a rescue that matched them and made them into the pet parents they are today.
We adopted Chauncey from a foster-based organization called Almost Home Foundation. Some of you know his story but if you don't – he was a mill dog from Kentucky, rescued, placed in a kill shelter and he was "on the list". Almost Home transferred him to Illinois, placed him in foster care, then he was adopted for nine months, and then returned. After that, he lived for another several months with the same foster family that originally took him in.
And then he found us.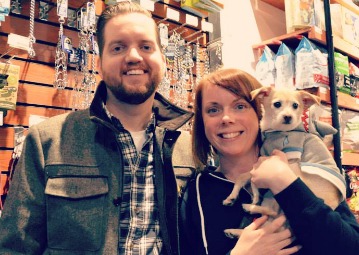 Bless that foster home. Seriously. My gratitude list ALWAYS includes those people that kept CBV safe for us. My heart loves them for saving his life, for making a temporary home for him, and then waiting with him to find the right place.
So to say I'm a "supporter of fostering animals" is a total understatement.
Recently two Rover-Time families took in their first foster dog. Both "failed" in the best possible way and became the adopters, because they fell in love, and we're thrilled for them. It's a happy ending, and it's fun to hear the story behind the motivation. So I chatted with Caitlin Gath, mom to Chicklet and Millie, and Sara Frabotta, mom to Mouse and Javier, who spoke about why they decided to foster. And Anna Friedman, One Tail at a Time's Adoption Counselor, jumped in. She shared more on the benefits and what to expect as a foster parent.
Here we go.
Rover-Time: What does it mean to foster a dog and how does it benefit the dog?
Anna: Since we're an entirely foster-based organization (meaning we don't have a physical shelter space), we can only intake/rescue as many dogs as we have foster homes for. Therefore, for us, fostering means you are literally saving that dog's life and allowing them to leave the shelter and join a home environment. In addition to it being a life saving opportunity, it allows us to really get to know the specific dog which helps immensely in finding great adoption placements. Two of my three dogs we adopted directly from a shelter (the third was a foster fail) and though we adore them, there certainly were some transitional and behavioral situations we weren't aware of after simply spending an hour with them at the shelter. Having dogs in foster allows them to perfect their potty training, socialize with other animals, get in a great routine, and ultimately all of this hugely minimized the stress/transition to a permanent home.
Rover-Time: What do you look for in a good foster home and parent(s)?
Anna: Because we have such a myriad of dogs and a huge spectrum when it comes to age, energy level, dog-dog sociability, etc. we're really flexible on who can foster and feel that there is a good match for just about everyone. What we do ask though, is that fosters understand these dogs typically were at a shelter, then at our vet's (for vaccinations, spay/neuter, etc), and are now transitioning back to a home environment. So, even the most well behaved and totally house trained dog may take a few days to get back into a routine. We provide a ton of support when it comes to dog walkers, trainers, etc. but do ask that fosters give their dog time to acclimate.
Rover-Time: So what made you want to foster a dog in the first place? 
Caitlin: I had wanted to foster for several months. When you volunteer at Chicago Animal Care and Control it's hard not to want to help (read: take home) so many of the deserving pups that are awaiting rescue there. I also knew that because I was connected to One Tail at a Time (OTAT), I would be very supported throughout the foster process.
Rover-Time: What was it like those first few weeks when Javier joined Mouse in the house?
Sara: Javier bonded to me right away, and took a longer time to warm up to Tony (Sara's husband). There were some bumpy parts, I'm not sure Javier had ever seen a cat before, for example, but eventually everything settled to where we are now. Sometimes I can't believe we've only had Javier for five months, he fits so well in our lives.
Rover-Time: Is there something special or different about the serial foster parent compared to the first time foster fails?
Anna: It tends to vary a bit but when I think about our serial fosters they tend to either already have a couple pets of their own and, therefore, are truly just interested in helping but not looking to adopt, or, they are individuals/families that are not in a position (due to school, work, travel, finances, etc) to make a permanent commitment to a dog but do enjoy having a rotation of great dogs (totally free of cost!) in their home.
Rover-Time: What surprised you about being a foster?
Caitlin: How quickly I became attached to Millie! My goal all along was to be the person that saves her and helps place her in a new home. But after I started thinking of a name for her (and subconsciously only choosing ones that seemed to "go" with Chicklet), I started thinking maybe she could stay a while…
Rover-Time: At what point did you know you wanted to adopt Javier?
Sara: Pretty much as soon as I saw this happening. This was the first morning he and Mouse spent together. I brought Javier to my office with me one day while Mouse went to daycare, and the report was that Mouse was pretty sad – he didn't want to play as much, just sort of laid around most of the day, very out of his usual daycare mode. When I heard that, I knew he missed Javier and I couldn't separate them. They're completely opposite in every way possible, but they are the very best dogs we could have asked for.
Rover-Time: What would you say to someone who is thinking about fostering a dog?
Caitlin: To anyone who is thinking about fostering: just try it! It is such a rewarding experience when it's done right and you have a great rescue supporting you. Fostering is always free to the foster parent, so all you're giving is your time and love, which is pretty special.
Rover-Time: As a foster parent yourself (on top of everything else you do!), what is the best part about it?
Anna: We have three dogs of our own and are not looking to add another permanent dog but do love having the energy, fun, and personality of different dogs in our home. I do the intake for OTAT, I typically see the "before" situations of all of these dogs and it is hugely rewarding to get to provide them with a warm bed, food, and love and see them really blossom. And I love our adopters and seeing the joy that a puppy or dog we have personally cared for brings to their new family.
We hope this post encourages some of our readers to seriously consider fostering a pet (cats need fosters too!). There are many great, reputable organizations across the nation that can help facilitate the process and support new foster parents. And if you happen to fail at fostering by adopting the animal, then welcome to the club.
We want to hear from you…
Have you fostered? what have you learned? Did you adopt the pet or help find it another forever home?