September 12, 2016
"We don't get together often enough."
"Rescue dogs are some of my favorite dogs."
"Getting out of the house is a healthy thing."
"I like beer."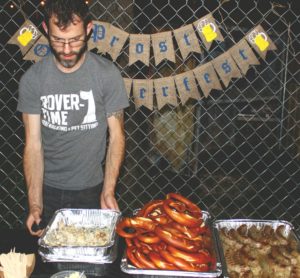 Dogtoberfest will happen at One Tail at a Time's Adoption Center on October 7 at 7 p.m. We'll serve a great meal from The Radler alongside tall steins of German beer. And the event is dog-friendly, so you can bring the pup!
I have so many reasons to look forward to Dogtoberfest next month. As an associate board member at One Tail at a Time, I'm given the opportunity to host fundraisers to bring awareness for my very favorite dog rescue in Chicago. But this particular event is a great reason to gather our amazing Rover-Time customers, our biggest supporters, and our dearest friends in one place.
Rover-Time began because I love dogs and their humans. As my small business rapidly grows and heads towards its fifth anniversary, I'm continually honored by every new family that entrusts us with their wonderful dog or cat but I miss having that time to unwind and connect with each customer personally.
And it's been a year since Rover-Time hosted a special event for its customers so this overdue night together shouldn't be missed! Let's have some fun, a few laughs, and pet a lot of great dogs to raise money for a rescue that is doing incredible work to make Chicago a no-kill city. I can't wait to move beyond email to get some face time with you. Let's find each other and chat for a bit.
To learn more about One Tail at a Time, visit their website, Facebook page, or follow them on Instagram. Tickets can be purchased here and you're also welcome to email me directly with any questions.
I hope to see you there!