September 25, 2014
Ten days ago my husband and I shared the news on Facebook. We're having a baby and I'm due some time next April! Mark's post was so… Mark. Totally sincere and thoughtful, well crafted. Mine was well, me. A little tongue in cheek, poking fun at the situation because let's face it: sometimes laughter helps when you are really, really nervous about the huge changes to come.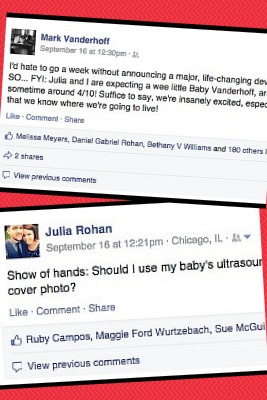 I'll start this entry a little different from some of our previous ones. I have never experienced the first trimester of pregnancy before. To say I felt like a bus hit me would probably be the biggest understatement of my life. To go from wanting to work 70-80 hours a week, because I love my job more than anything, to not being able to stay awake for more than two hours at a stretch was difficult. There was no way I could manage our editorial calendar or what others were doing to support it and I was okay with that. I kept almost everything else on track and rested for the first time in three years. This will probably happen again so I thought I should explain where we've been and what things might be like in the future.
This week, I'm throwing this post up (no pun intended) to highlight what I'm planning to write about in the months to come, stuck in between the work of our other bloggers contributions.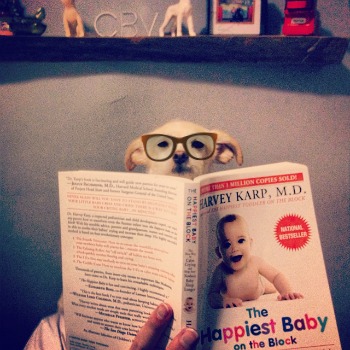 We have this dog that goes by the name Chauncey Billups Vanderhoff. Even without my hormone induced pregnancy I can barely type how much he means to me without getting that tiny lump in the back of my throat because I just love him so much. I truthfully think my opportunity to nurture him and better his life helped influence my choice to head towards motherhood.
If you know our boy, you know he's not perfect and he has some work ahead of him. Mark and I have lot to learn too. I realized by documenting this and writing about it, I'll have a creative project to think about occasionally, which I always welcome.
Our blog has covered a lot on dogs and babies but not one of the authors actually had a kid or was about to have one. So I think my plan is to write about adjusting our lives and Chauncey's to fit parenthood in. Because this is a dog blog, I vow to keep things on topic. Promise.
We'll see how it goes. Until then wish me luck. I'm confident this new chapter of life is going to be the best one yet, but I'm still scared. A good scared. Talk again soon.
Julia Rohan founded Rover-Time in January of 2012 and received her formal training at CanineLink, a program for aspiring dog trainers, based in Chicago. Julia lives in Albany Park with her husband Mark. Together they co-parent Chauncey Billups Vanderhoff, an over-confident, territorial, and anxious 8lb. Chihuahua-Terrier mix that melts her heart hourly.