November 11, 2015
November. A time of pumpkins, potatoes, and family. Here at Rover-Time we are feeling particularly thankful for those special family members who have walked into our lives by chance or well, sometimes with just a gentle paw on the arm, a tilted head, and heart-melting stare.
Adopting a rescue animal takes a great deal of heart and at times, a great deal of patience, but the ultimate reward of giving a special dog a second chance at life is priceless. Join us this month as we celebrate our rescue rock stars and the families who love them. Each week we will share a different rescue story and introduce you to a few of the many rescue pups who brighten our day.
Without further ado,
Meet Ginger!
Ginger started walking with Rover-Time on July 5, 2012. Her parents, Elise and Scott, adopted her through a small Chicago-based rescue called "Puppy Love, Love Cats." This center has since changed their name to "Lovin' Life" rescue.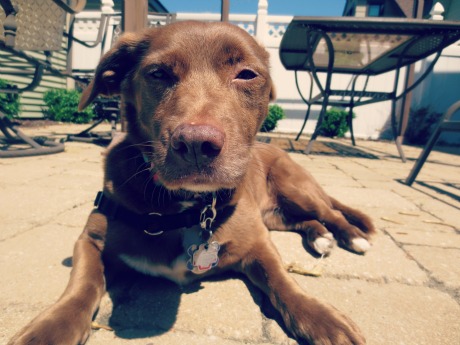 The Basics:
Breed: Spaniel/Daschund mix
Birthday: July 31, 2009
Favorite activity: Tie between catching flies, chasing small animals (rabbits and squirrels) and destroying squeaker toys.
Nicknames: "Roo" (for Ginger-roo), and "brown monkey."
Theme song: "It's Good to be King" by Tom Petty
How did you first meet Ginger?
We went to an Angels with Tails event in the West Loop.
Were you looking to adopt at the time?
We wanted to adopt soon, but not necessarily that day since our lives were a little hectic. But then we met Ginger. She put her little head in my lap and I couldn't say no.
How old was Ginger when you first met? 
Ginger was about 10 months to a year.
How quickly did she adjust to life as part of your family? 
Ginger warmed up to Scott and I very quickly. She seemed to be really comfortable with the two of us and with our home. She was going through heartworm treatments though, so we didn't get to see her really run around and play for several months while she was being treated. She came from southern IL, and was scared of the city sounds, too.
Did you face any challenges with fear or behavior as she made this adjustment? How did you work to overcome those challenges? 
We found out pretty quickly that Ginger had a hard time trusting people other than Scott and me. We lived next to the Metra and that terrified her, too, and she didn't want to walk outside. We ended up working with a couple behaviorists, which helped a lot. When she was able, we started taking her to doggy daycare, and she really liked that environment. She was a lot more comfortable around other dogs than people, but I think interacting with the daycare staff started to help her with those fears as well. It's an ongoing process, but Ginger has made some pretty great strides in the 5 years since she's joined our family.
What advice would you give to someone looking to adopt a pet? 
I say go for it! Understand that it can be a lot of work, especially at first, and some unexpected behaviors can arise. But if you're willing to put in the work, the reward is a new best friend. I wouldn't hesitate to adopt again.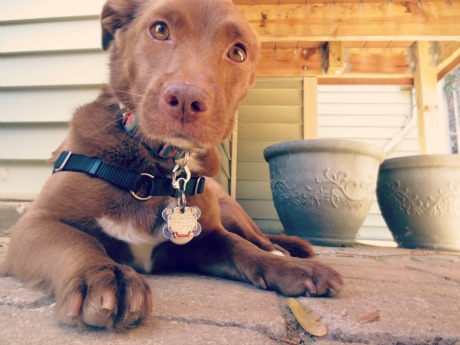 Becky is a manager at Rover-Time. She loves animals, improv, and learning to cook. Becky is certified in pet First Aid and CPR and has been with the team since June, 2014.