November 24, 2015
Julie and Jack, adopted Beau through One Tail at a Time (OTAT). He began walking with Rover-Time in February, 2014. In addition to being wonderful pet parents to one of our favorite hounds, they volunteer and foster for OTAT. And we have been lucky enough to meet a couple of Beau's foster friends! Their house is filled with love and happy dogs.
And now without further ado,
Meet Beau!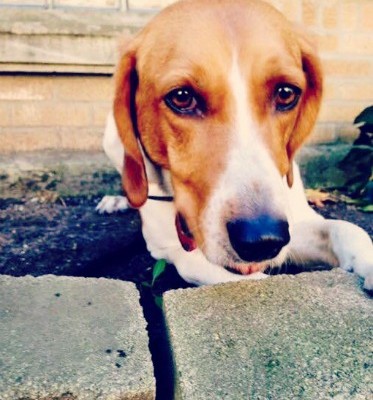 The Basics:
Breed: American Fox Hound Mix
Birthday: 11/24/2011
Theme Song: Ain't nothing but a "Hound Dog!" by Elvis Presley
Favorite snack: Teddy Graham's, and anything else we're eating.
Favorite Activity: Bunny hunting (anything hunting), squirrel chasing, tennis ball eating, antler chewing, capped off with bed laying (preferably ours!)
Nicknames: Beau-Beau, pup-pup, puparoni
How did you first meet Beau? Were you looking to adopt at the time?
Not exactly… We had lost our previous guy a couple months earlier. We'd been checking out rescue sites but didn't think we were ready for another dog yet. Ruff Haus, our local store, was hosting an OTAT event. A dog that was going to be there, Murray (fka), seemed like a good dog, and we thought why not meet him since the event was in our neighborhood. We went. He seemed like a decent dog but was very distracted by his surroundings. There were a couple people expressing interest in him, and we left thinking, "not quite ready yet." Or at least I did. A couple weeks went by and Jack said, "Maybe he's still available. We should check." And Thanksgiving weekend, 2012, he became part of our family. We named him Beau

.
How old was Beau when you first met?
About a year.
How quickly did he adjust to life as part of your family?
He's a very easy-going dog and adapted pretty readily.
Did you face any challenges with behavior as he made this adjustment? If so, how did you work to overcome those challenges?
A couple shoe chewing episodes but nothing major (a broken-in Birkenstock should have a few chew marks, right?). We were committed to crate training and he adapted to it well so that helped with keeping him, and our shoes, safe. Our previous dog had severe separation anxiety his whole life and the greatest lesson we learned from that is how important crate training is.
Beau is a nose-driven-hound and has escaped a couple times but thankfully we, or a neighbor, have caught him. We've learned to be very careful when opening doors & gates. And he's become more focused on us with lots of obedience, training, and agility. We are strong believers in continued training to develop happy families and well-adjusted dogs.


What has surprised you most about Beau?
After having a very senior dog, who was blind the last 9 months of his life, we kind of forgot how energetic and goofy a dog can be. Beau is a big knucklehead and his personality continues to develop. Knucklehead example one, the first time he saw a plane fly over our yard, he 'chased' it the length of our property. Number two, after nearly a year of sleeping on a bed next to a floor-length mirror, we woke up one morning to him growling and barking, at his own reflection. He's still suspicious when he sees his reflection.
What advice would you give to someone looking to adopt a rescue animal?
Find the right dog-fit for you and it will be more rewarding than you can imagine. Rescue dogs have often been through so much, some more impacted than others. They deserve the good life and your ability to provide that to them is truly a special opportunity. We dote on dogs and like to say any dog who lands in our house has gotten a Golden Ticket. Be that opportunity for a dog in need. And if you're not sure you're ready, consider fostering or volunteering with a rescue group. Whether you adopt, foster, or volunteer, you're saving lives.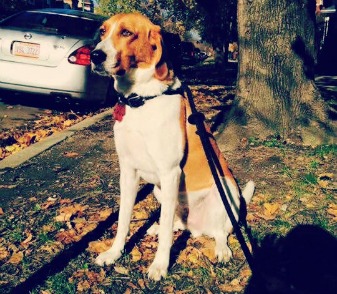 Becky is a manager at Rover-Time. She loves animals, improv, and learning to cook. Becky is certified in pet First Aid and CPR and has been with the team since June, 2014.