October 29, 2013
I'm very excited to be writing my first blog for Rover-Time! Let me introduce myself. My name is Katy and I will be helping Julia publish fun and interesting pet-related news, tips and anecdotes from a pet owner's perspective.
A little bit about me…I have worked in advertising and marketing for almost 7 years. About a year ago, I launched a business with my two sisters called Amelia Street Studio, specializing in video and design (I have very talented sisters). As my sisters and I ramp up our own business, I'll be assisting Julia with her marketing efforts as well.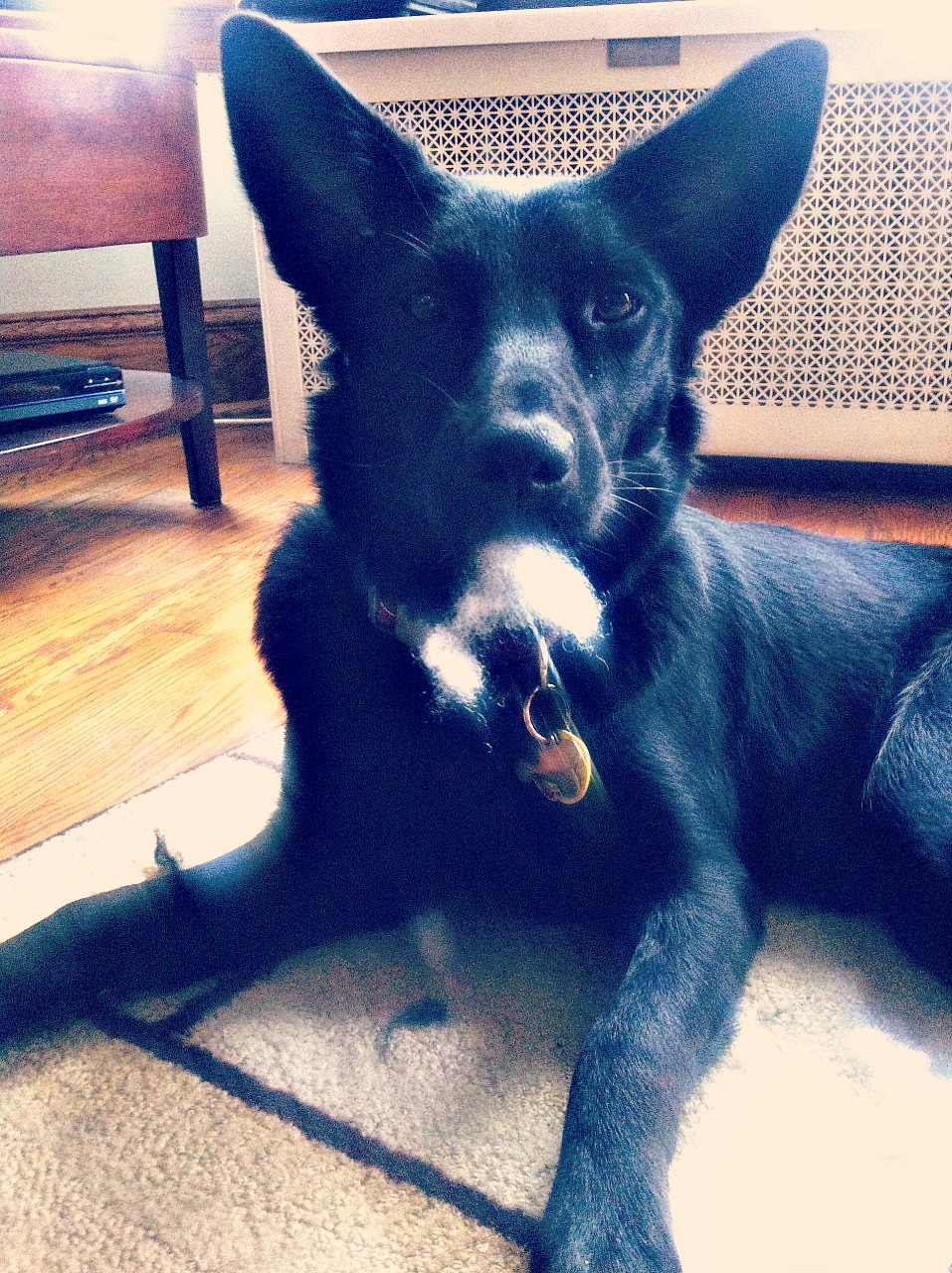 Now, may I introduce Squash, my lab/border collie doggie (aka Borador) and the love of my life. As any pet owner can attest to, it's so easy to love these creatures unconditionally, but they aren't perfect. Squash makes me laugh constantly and she amazes me every day. However, she's got her quirks and issues, too.
My goal with future posts is to use my experiences as a dog owner to address common challenges when raising a pet as well as share some silly stories along the way that I hope you can relate to. I'll also bring in some expert help for great tips and tricks we can all use.
For this post, I want to share a little bit more about Squash-a-roo, who happens to have a special connection to Halloween.
My husband, Jeff, and I got Squash a little over a year ago in early October from Chicago Canine Rescue (amazing organization!). We were planning on getting a 2-3 year old dog, but when we saw this litter of 6 black pups, we couldn't resist. The li'l fur balls were about 4 months old when they arrived from Oklahoma. Even though they were born in July, the volunteer who named the group decided to go with a more seasonal theme.
There was Ghost, Goblin, Pumpkin, Candy Corn, Boo, and Squash. We fell in love with Squash instantly. She had a little stripe of white on her chest and paw. She was energetic but also cuddly. Ultimately, her name sealed the deal.
I wish I could say I named her because everyone laughs when they hear it. It's funny how a dog truly becomes their name. She acts like a Squash, jumps like a Squash, kisses like a Squash, prances like a Squash. I couldn't imagine her with any other name.
(I know that Ghost and Goblin's parents decided to change their names. Would you?)
I hope you all will fall in love with Squashinator as much as I have. Happy Halloween all you ghosts and goblins!