December 11, 2014
I'm sorry to be the bearer of bad news, but winter is back. Yes, it's true, and if you live in or around Chicago like I do, your wounds from last winter are still fresh. The best we can do is be prepared for whatever lies ahead. Here are 5 ways I'm preparing my pups for the blustery weather, and I suggest you do too!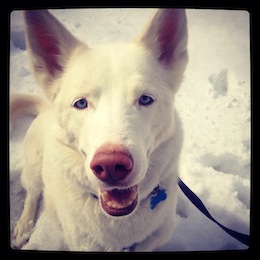 1. Paw balm – My very favorite winter product is Musher's Secret. Simply apply a thin layer to your dog's paw pads and between the toes like lotion, and your dog is protected from drying, cracking, and salt burns. Pro tip: you only need to apply it 1-3 times per week, depending on how much outdoor activity your pup gets. It absorbs quickly, forming an invisible, non-greasy, breathable layer of protection. I even use it on my hands too! (Rubber boots like Pawz brand are great too, but it can be a hassle to put them on every time you go out!)
2. Paw pad & nail trimming – Dogs that grow hair between their toes and pads could benefit from regular trimming, especially in the winter. Those extra tufts can form uncomfortable snowballs and make getting traction more difficult on ice. It's very easy to accidentally cut them while doing this though! Most groomers will do it quickly as a walk-in for a few bucks. With shorter walks and more ice covering concrete, nails can grow out of control. You may need to trim them more often in the winter!
3. Pet-safe ice-melt – While you can't control what kind of salt your neighbors spread around, you can make the choice to buy and use ice-melt that is labeled as safe for pets and kids. Not only does traditional salt cause painful burns and irritation to paw pads, but it can cause lots of issues internally if your pup licks their sore paws. You can at least minimize the risk by using safe salt on your own sidewalk and property. If you live in an apartment building, ask your landlord to use a safer alternative. Pro-tip: completely rinse your dog's paws to be safe.
4. Coats or jackets – It may seem silly, but your dog can be kept comfortable by putting on a warm coat for trips outdoors. Many breeds were not developed to handle colder climates – think Chihuahuas, greyhounds, and other breeds with short and/or thin hair coats. We can help them avoid hypothermia and discomfort with a little bit of clothing. You'll still want to limit time outdoors to prevent frostbite on ears, noses, tails and toes!
5. Leash and recall training – You may not think about it in the warmer months, but a dog with poor leash manners can hurt themselves and you by pulling and darting on icy sidewalks. Your dog could lose their footing and smack their jaw on the ground, or slip and sprain something, not to mention the possibility of a broken hip! I have definitely been pulled down by large dogs on the ice and it HURTS. Some basic training now can save you some pain this winter!
Another behavior you may not think too much about is recall (coming when called) which, when trained well, has the potential to save your dog's life year-round. If you live near any body of water, getting your dog back to you before they run out onto an icy lake is one of those times you'll be glad you've worked on this. You can find a reputable trainer who uses positive reinforcement near you for more help with these behaviors.
Chime In!
What do you do to prepare your pet for winter?
What are your favorite cold-weather pet products?
Lynda manages our dog walking team at Rover-Time. Her career focus is on dog training and behavior and her approach is based on science, positive reinforcement, and humane methods to improve relationships between humans and their pets. She's also an assistant trainer at Animal Sense in the evenings and co-parents her own cat and two dogs, Surf and Ryan, with her other half Mary.